Used in the right way, video is an invaluable feedback tool in football for improved communication, and increased efficiency in the coaching process. However it also comes with many challenges. Read and watch the video on what some of our customers think Spiideo helps them with in the daily work with video capturing analysis.
No more struggle with technology, everything is captured
Axel Kjäll is an assistant coach at Örebro SK, and have now used Spiideo for about a year.
"Before we got Spiideo, the biggest challenge with using video in football for me, was lack of time, to get good useful pictures and have someone to organize everything," Axel says

Axel Kjäll
This has changed a lot since they got Spiideo. Now they record everything and use it across the whole club. All coaching staff and players have access and can watch practices and matches on their iPads and/or iPhones.
"One of the best things for us with Spiideo is that it is really easy to use. Everyone can use it, and you always have it with you, you can always watch it. Since everything on the pitch is captured and saved, you never need to worry about missing a situation"

Axel explains.
When it comes to matches, Axel used the videos both before and after the matches, but also during the match in half time to e.g. give quick feedback to the players regarding set pieces in order to make small adjustments to the play.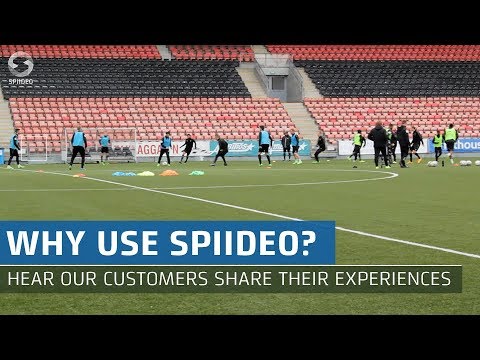 Making video a part of the everyday work process
Maths Elfvendal is an assistant coach in IFK Norrköping, and responsible for all goalkeeping in the club. In addition, he is an assistant coach in the Swedish National team. He sees video as a very powerful feedback tool is in particular for younger players.
"I think the video really helps us with the feedback and helps us develop players because we can be more objective, we can have the same pictures as the players have. Now when we are using Spiideo, it's a lot easier, and it is a tool that helps us with the everyday environment,"

says Maths Elfvendal
The challenge before Spiideo was that the process required a lot of manual work. Someone needed to organize the camera set up before the sessions (with fresh batteries, cables etc), and keep track of when to start and stop etc. The next step was to import the video to a computer to cut and edit, export and organize and share with the coaching staff. After that, they needed to cut and edit again to show the players etc. All this is now simplified a lot.
We can use it every day for training sessions. and it's only to press the record button and you are on. You can show the players directly after things happened, or after sessions as I usually use it"

Maths continues
The Swedish first and second league (Allsvenskan and Superettan) are now equipping all the home arenas with Spiideo systems. Stefan Lundin, Sports Director at the Swedish Football League (SEF) , sees this as a great way to further strengthen video capture and analysis to be a part of the daily routine and work process – both for Individual and team performance development and in particular for academics and young players
Players today need to see for themselves what happened, not just hear it from the coach", Stefan says
Learn more about Spiideo solutions for football at: https://www.spiideo.com/sports/football-video-analysis-software/